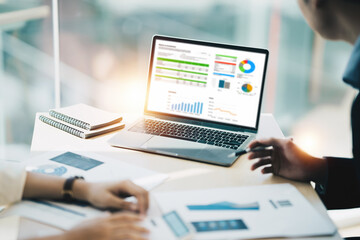 "A Sales Manager with a host of experience refining strategies, improving sales outcomes, and leading teams to greatness."
Sales is a sector that is constantly evolving, necessitating that professionals keep up with best practices, shifts in the market, emerging technologies, and the diverse needs of clients across industries to forge success. New professionals seeking to gain experience in the field and individuals with established careers in sales alike often turn to seasoned veterans of the industry. Reason being these experts have knowledge that can help individuals learn more about crucial industry concepts to improve their outcomes and propel their careers — and many are willing to share their insights to help.
John Kim is a UCLA Anderson School of Management graduate and Sales manager who shares his insights on concepts such as sales practices, recent developments in the field, and a variety of methods to build fruitful careers across industries. Through a collection of high-level resources that explore his areas of expertise such as sales management, business development, leadership, science, and technology, he hopes to help others contextualize their efforts in these spaces and reach their individualized ideas of success in their respective industries.
About John Myungjune Kim
John Myungjune Kim is a Sales Manager specializing in biotech sales. John is a UCLA Anderson School of Management graduate and maintains that his foundational education in business leadership taught him many important facets of his profession. Notably, John learned essential skills such as how to build teams capable of overcoming obstacles within industry, effective leadership strategies, the importance of investing in infrastructure to support workforces, and goal setting. John Kim, during his time at UCLA, participated in research studies to empower himself to learn more about biotechnology and its applications to the current healthcare infrastructure. Soon after graduating Magna Cum Laude at UCLA, John Myungjune Kim began his career in sales management. For over 18 years, John has been responsible for training his team on the Robotically Assisted Ultrasound System for Brain Health Assessment, imparting knowledge that enables them to refine their sales strategies and adapt to the ever-evolving needs of clients.
Colleagues of John Kim from UCLA and his current profession speak to how he is a professional who prioritizes learning everything possible about his areas of expertise such as sales, science, technology, business development, leadership, and management. As a Sales Manager, his team maintains that he is a professional who leads by example and excels at communicating complex ideas in a digestible fashion to colleagues and clients. John is well regarded for empathic approach to business and acknowledges the importance of proper supports within his workforce to aid in their outcomes. Clients of John Kim of UCLA speak to his immense knowledge of his space and ability to accurately convey how technological innovations can improve various processes within organizations. Particularly, they maintain that John Kim cares deeply about the continued success of his client base and tailors his strategies to ensure that their diverse needs are upheld through every stage of the sales process.
Aside from his rigorous professional endeavors, John Kim of UCLA maintains an active personal life filled with hobbies, loved ones, and friends. In his free time, John enjoys restoring classic cars and is a proponent of maintaining a positive work life balance to keep up with his favorite activities such as attending Burning Man, entertainment opportunities, reading historical fiction, and spending time with loved ones. John is married with three kids, and he enjoys participating in various activities with his family. He mentions that they are a driving force and inspiration for his dedication to excelling within his field.
John Myungjune Kim's Areas of Expertise
Over the course of John's storied experience in sales management, he has accumulated a wide range of skills and areas of expertise that empower him to effectively manage and lead teams to reach both their and the company's goals. Below are a few of John Myungjune Kim's most notable skills areas of expertise that he has refined thus far.
Sales Management
Marketing
Sales Operations
Account Management
Product Launch
Analysis
Research and Development
Consultative Selling
Start-Ups
Business Development
Business-to-Business (B2B)
Logistics
In addition to John's current skills, he is consistently working towards building his acumen to better prepare him for the rigors of his field and leading his team. To this point, John speaks to the importance of staying up to date with developments within his field through training opportunities, certifications, and industry events, and encourages others to do so as well.
More from John Kim of UCLA
John Myungjune Kim that sales management and business development strategies change with time to reflect the evolving needs of clients, technological implementations, and shifting ideas on best practices. To this point, he recognizes that there are many people who would like to hone their skills and learn more about his respective fields of sales management and business development but believe finding effective resources daunting. John is a proponent of diversity, equity, and inclusion (DEI) within sales communities and mentions that increasing access to critical knowledge is essential to truly contribute to innovation within his field. He notes that he is in the unique position to help others better understand how they can build up their acumen, keep up with recent news impacting evolution in the space, and effectively leverage their skills to reach success.
John Kim of UCLA hopes to update this website with high-level resources containing insights into sales management, biotech, business development, and more. Future posts from John will address topics such as effective management strategies for sales teams, the importance of a positive work environment and its impact on workforces, and tips for gaining essential skills to forge a successful career in sales.
Interested in learning more about concepts such as sales, management, biotech, personal and professional development, and more from a veteran of industry such as John Myungjune Kim? Check this website frequently for more information, insights, and updates.